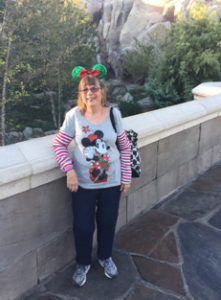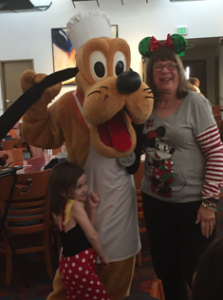 My first trip to Walt Disney World was in 1976 and I fell in love! Some forty something years later my WHOLE house is Disney, and almost everything I wear has some sort of mouse ears on it. I own a beautiful little Pit Bull named Ohana! (I also had a beautiful rescued Dalmatian named Cruella De who blessed my life for 14 years)  Oh yes and I can't forget to mention my 2 aquatic turtles, Donald and Daisy.
I have been to Walt Disney World many times, and to Disneyland a few times.
There is something about Disney that truly is magical. I would love to share my Pixie Dust stories and my knowledge of the park with you.
I must warn you, I have a great sense of humor and have laughed my way through many situations. I was Once told I was the "Goofiest thing this side of Disney!" I have two daughters, and a Sorta Son, and he has been to WDW with me several times, and actually keeps up with WDW news and loves to help me while I help others plan their magical vacation. Having several dietary restrictions I love sharing all he wonderful meals I have enjoyed at WDW.
I have 3 granddaughters and the youngest just turned 6, (2018) and she is my Disney girl. My middle granddaughter got to celebrate her 16th Birthday at WDW. The oldest, now 19, still loves Tinkerbell.
I keep active at Church, the YMCA and  by volunteering at Lake Humane,  Play House Square, Cleveland International Film Festival, and Cleveland's Asian Festival. I also love walking and Bird Watching at our beautiful MetroParks.
I have some great ideas on saving money while enjoying Disney. Please consider allowing me to become part of your magical vacation, I look forward to talking with you!
Brenda Barbarino