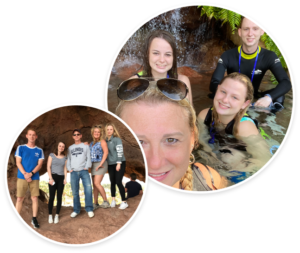 There is nothing more satisfying than all of the pieces coming together for that perfect vacation package. The rush of finding that perfectly priced flight that lands at the same time as the rest of my family flying from different locations. Sometimes a round trip ticket is not the best price or possibly leaving from a different nearby city may give you an extra day for less money. Not only do my clients have the best resorts and flights, they receive several recommendations for excursions, entertainment, dining, and much more. Did you know that there is an amazing kayak tour, in crystal clear water, not far from Orlando?
I'm definitely a Beach Bum! I've experienced the tropical wonderland of Costa Rica and return to my happy place, The Pink Shell Resort in Fort Myers several times a year. I'm certainly not opposed to a thrilling day at an amusement park or skiing down the Peak to Creek in Whistler, BC, Canada. Every spring my family visits Phoenix Arizona to cheer on our favorite baseball teams and hike the amazing local trails. My #GOAL is to hike to the top of Camelback Mountain in Sedona Arizona. Sedona, just a little over an hour outside of phoenix, offers breathtaking views and adventures for the whole family. Broken Arrow to Chicken Point is our favorite hike.
As a young girl my Mother told me that life is too short to not take advantage of every opportunity and to enjoy it. Jump in that pool! Ski down that trail! Go to that amusement park in the rain! Go on that horseback tour in the rainforest in a monsoon! Parasail! Allow Mickey Mouse to jump in your convertible! Climb that Mountain! Swim with the manatees! Dive with the sharks! Or just sit on the beach and breathe.
Life is just too short not to.
Dreams do come true,
Laurie