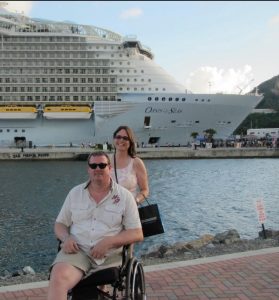 LIFE IS SHORT. Buy the shoes. Eat the cake. TRAVEL! I had heard all the clichés, we all have. You think they are cute, maybe re-post them on Facebook, then BAM! Life teaches you a lesson.
That was me and my family. Life was busy. My husband traveled for work all the time and we had four kids at home that were only five years apart from the oldest to the youngest. Did I mention we were busy? We always had some reason to put vacation and travel off until a later date. Then life happened. My husband was involved in a horrible crash and is now wheelchair bound. That's when we learned a very important life lesson, don't put off what you can do today. It took my sister-in-law a year to convince me to book a cruise, our first one, and I was only convinced after countless hours of research. That began our true travel adventures. We hadn't flown anywhere together since our honeymoon which was spectacular, West Palm Beach and then Switzerland, but that is another story.
Our first cruise was a huge step. The great unknown of traveling with someone disabled. Did you know that research shows that the best vacation for someone disabled is a cruise? Almost everything on a ship is accessible, all your entertainment and food are included, you only unpack once and you wake up in a new port most days, you can't beat it!! That first cruise created a cruise addiction, we have sailed many times after that one and have been all over the Caribbean. Our bucket list includes Alaska, Hawaii and the fjords of Norway. I have been to Norway, A-MAZE-ING!!! I want to share that beauty with my husband and it is all possible with a cruise.
Then we took our daughter, son-in-law, and two granddaughters to Walt Disney World. Talk about MAGICAL!! BEST TRIP EVER!!! I hadn't been to Disney since I was a child when my parents took me to Disneyland in California. We all had such a great time, Disney knows how to do accessible. The Magic is everywhere! They are as detail oriented as I am. My daughter and I were watching the welcome show outside the gates of Magic Kingdom before rope drop on our first day, looked at each other and had tears in our eyes, the magic of Disney gets me every time. Getting to see the Magic of Disney through the eyes of your children and grandchildren is irreplaceable. Watching my granddaughter see her first princess, the look on her face, pure Magic! I have been back to Disney many times since, some with family, some with friends, some for training.
I learned my lesson in life. Make memories now before it's too late. Don't wait until retirement, or the kids are older or whatever excuse we all have. Enjoy life now, make the memories that you will treasure for the rest of your life, now.
I promise you that I plan every trip as if it were my own. Let me help you make memories with your family, spouse or friends.