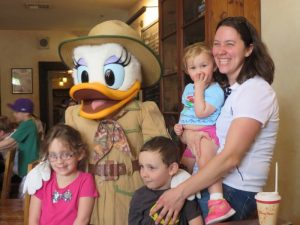 Just hearing the word Disney makes me smile!  There are so many amazing memories to be made at any Disney destination.  Walt Disney World is one of my favorite places to visit.  My 3 children and my husband would say the same thing.  We have such an amazing time every time we go!  It really is the "happiest place on earth!"
My oldest daughter has food allergies, and I cannot tell you how safe the Disney chefs are.  It astounds me at every restaurant we dine at.  The chefs walk us around to point out what is safe and also make special desserts on request.
My friends would seek me out for Disney advice before I knew that planning Disney vacations was even an option as a job!  Now that I have this wonderful job with Mouse Made Simple, I continue to love sharing my Disney advice!
I am also planning trips that are not Disney related – all inclusive, cruises, tours, and more.  Seek me out for a Disney destination – Walt Disney World, Disneyland, Aulani, Hilton Head, Vero Beach, Disney Cruise Line or for any vacation you've been dreaming of.  I can't wait to help you make some wonderful memories!