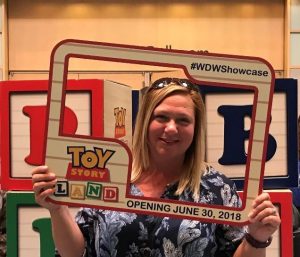 Memories last a life time....and pictures, well, you can never take too many!  The memories made and pictures taken on a vacation are priceless.
My vacation memories started at the age of 4 when my parents took me to Walt Disney World in Florida for the very first time.  I remember the excitement of dancing down Main Street to the lively music and sweet smells that filled the air.  Then suddenly stopping dead in my tracks to stare with jaw dropping awe at my first sight of Cinderella's Castle.  I still get goose bumps just thinking of it!
I say you can never have enough of a good thing, which I proved when I rode Peter Pan's Flight 5 times in a row! "Here we go! Off to Neverland!"
 But my fondest memory was meeting Mickey Mouse for the first time. There he stood with his arms stretched open to welcome me.  I gave him my biggest hug and he touched my nose with his hand. I'm so happy my parents captured those memory making moments with lots of pictures!
 Now, I am taking pictures and making memories with my family. The memories that I am making with my children on the beach, Walt Disney World, Universal Studios, on a cruise, and  SeaWorld are priceless! Living in Orlando means that all these awesome vacation destinations are in my backyard. I love being an Annual Pass member to Walt Disney World and SeaWorld! I feel that with all my personal experiences that I can plan the most personalized vacation for you and your family.
Planning a Disney a vacation can be very overwhelming, but I can help you every step of the way. I am passionate about helping you create new memories and will treat you like family.