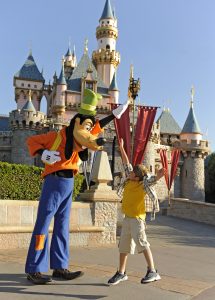 Dreams really do come true.
As a child, I always loved going to Disney World but as an adult, I love it even more! My grandparents lived in Florida so we would go almost every year. I went to college at Bowling Green State University where I majored in Geography with a minor in Travel and Tourism. This was where my true Disney experience came with the Disney College Program. I went to the seminar and I was convinced I was meant to work for Disney! First came the interview. I went to the store and got a shirt with Goofy standing on his head that said,"I'm Goofy." I was so proud and I walked into the waiting room and all the students interviewing were there in business suits! I got pretty nervous, but a week later I got the letter that said I was accepted! Two-hundred students interviewed and they took ten of us, I was so excited!
Then I had to tell my parents! My mom, of course, did not want me to leave and live in another state and my dad thought I would be home the next day! I finally convinced them to let me go and they moved me down there. The day I moved in, my dad had a business meeting to get back home so they pretty much threw my stuff in the apartment and left. As I watched the car pull away I thought "What did I get myself into". I did the college advantage program and was there for 8 months. It was the best experience of my life. I was very shy and Disney helped me come out of my shell. I have so much love for the parks and making peoples' days. Now I have so much passion for making other peoples' Disney Vacation dreams come true. I have been with Mouse Made Simple since 2005 and I LOVE it!
I look forward to helping more families have the best vacation of their lives!