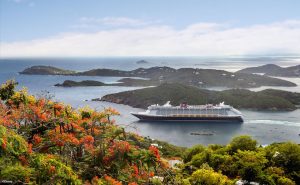 Wow, where do I begin? I have loved Disney since I was a very young child. It started the first time I walked into the Polynesian and saw palm trees inside a building! Through my youth, I was lucky enough to visit both Disneyworld and Disneyland numerous times. Each visit more magical than the one before. My true "obsession" started once I had children. I will never forget the moment and the feeling — seeing my daughters walk down Main Street for the very first time. They were both dressed in Princess clothes, holding hands. The true amazement, wonder and delight in their eyes still bring tears to mine! Sharing that first Mickey Bar or Dole Whip, singing while on "it's a small world", spinning the Tea Cups as fast as they can or seeing a monorail go right through a building are more than memories. They are feelings you never lose, dreams that have come true!
My family has been blessed to visit Disneyworld, Disneyland, and The Disney Cruise. Each having their own wonderment.
After being a Dental Hygienist for 15 years I was ready for a change. Not sure what to do I kept thinking about what I liked, what I loved. Each thought always came back to Disney. Now I am so delighted to make other people's dreams come true! How lucky am I?
Have a magical day!