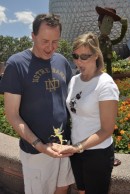 Ever since I was a little girl and my Grandma and Grandpa brought me a Tinkerbell "glow in the dark" magic wand from Disneyland in California, I have been in love with Disney!  My husband and I traveled to Disney World before we had kids and then took our son and daughter about every other year until they left home.
We have all been to Disney Land Paris and got my husband to ride Space Mountain there, which is much scarier than the Florida version!
Our family favorites are the Tower of Terror, Splash Mountain, The Lion King show at the Animal Kingdom, and the Main Street Electrical Parade. Remy and Palo are not to missed by the adult dining crowd on Disney Cruise Line.  Our favorite restaurant at Walt Disney World is Jiko at the Animal Kingdom Lodge.
My husband and I took the Disney Dream in May and had a blast.